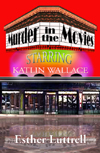 Reviewer:Duane E. Nightingale (Topeka Telegraph & Topeka Gazette)
"View from the DEN"
"Murder in the Movies" by Esther Luttrell (Port Town Publishing)

---

(Note: When a friend, Karen, called and asked me if I would review a book by a local author, I was less than enthusiastic about the idea. I sat there looking at six or seven new, but unread, books which were written by very popular novelists. Still, Karen was so insistent, I told her I would at least start the book to see if it would hold my attention. Needless to say, it grabbed me, held me and then threw me away still wanting more books from the author, Esther Luttrell).

Movies have long fascinated people who strive to be the next Elizabeth Taylor or Clark Gable. What would it be like to gain fame and fortune for doing something that looked so simple? Unfortunately, there have been very few who have reached the pinnacle and the rest have wound up on the back side of the camera or out of the business entirely.

There are also those who would do anything to make the "big time" in Hollywood, even to the extent it doesn't matter who they step on to get there. Even bad publicity can be helpful, but when a movie star is murdered, the people in the news media become circling sharks and begin nipping at their prey. There is no safe haven from the cameras if photographers think you have even a remote connection to the case.

Katlin Wallace thought she had left both the good and bad sides of Hollywood when she and her husband moved to Florida a few years ago. When her phone rang, she had no idea she was about to become more involved than she ever was as a movie production coordinator. The long time friend on the other end was in deep trouble and Katlin was needed back in Los Angeles. She wasn't certain she could help, but she had to try.

Arriving back in California, Katlin found herself investigating the death of a man which the police had called murder based upon an eyewitness account, but which could have been an accident. Even though she was not trained in investigative procedure, she works her way through the facts and presents the reader with a startling conclusion to the case.

Readers will find "Murder in the Movies" a page turner, a book that will help you understand the inside workings of the movie industry while providing mystery and a healthy dose of humor. Thanks, Karen!

D.E.N.


---
"Esther Luttrell's way with words is awesome: phrases like creaked mightily underfoot, moss-dripping trees, noisy ritual of puberty celebration, the peach tree committed hari-kari, mountains heading into the constellation of Orion. 'Murder in the Movies' will be a hit because the main character, Katlin Wallace, is extremely real. Luttrell doesn't even allow the reader's brain to rest; the drama is engulfing. I could have read her book faster, but I read it slowly in order to savor it to the fullest."

-- Otto Oppenheimer Roger, author "Las Reinas Nunca Mueren"


---

"Oh, what a web she weaves! A must-read for anyone who loves a good mystery."

-- Joe Franklin, WOR, national radio talk show host.


---

"Murder, mystery, and mayhem in the grand old Hollywood style! An intense and exciting read."

-- Pam LaBud, author "Spirited Away", Zebra Publications


---

"I picked up the book because I like movies. I don't usually read mysteries, but this one is so great I can't even begin to tell you. The description of L.A. and the characters are outstanding. I love it."

-- An Amazon.com reviewer


---

"The author grabs the reader's interest in the first paragraph and doesn't let go for the entire 300 pages."

-- Betty Laird, author, playwright.


---

"Luttrell uses her own Hollywood studio background to weave a tale well worth telling."

-- Jack Allen, former television network director of development, author "Marilyn by Moonlight".


---

"This is one of the best mysteries I've ever read and I've read plenty. It's suspenseful, it's fun, it's just delightful. Why isn't this on the New York Best Seller list? It should be."

-- Carter Lord, executive producer, Ocean Entertainment Group, Inc.


---

"I loved every word in the book. I read it in one sitting because I couldn't put it down."

-- Evelyn Fort Stewart, author, "My Miracle: One Woman's Journey from Tragedy to Triumph".


---

"It was a great book. I liked the characters and cared about what happened to them. It was an attention grabber. I cannot wade my way through most novels and do not finish most of the ones I start. Your book, however, would not let me put it down. I had to keep reading to find out what would happen. I cannot remember for sure how long it took me to read it, but I think it was in one sitting - with a cup of tea and a cat on my lap."

-- Dianna Lawson, freelance writer for the Topeka Capitol-Journal.


---

"I had fun finding the different Hollywood places [Esther] talks about in the book. Her details are copious and interestingly presented, often quite humorous. I couldn't put it down."

-- John Combellack, West Coast actor.